Infratel Height Solutions was set up to provide affordable solutions for working at height.
We are a specialist provider of temporary and permanent access systems and industrial rope access solutions for your construction or maintenance scheme. We are proud to work with quality partners such as Checkmate, our key supplier of advanced safety equipment.
Added to our advanced supply chain network we are able to make a real difference on how projects can be delivered safely on time and within budget.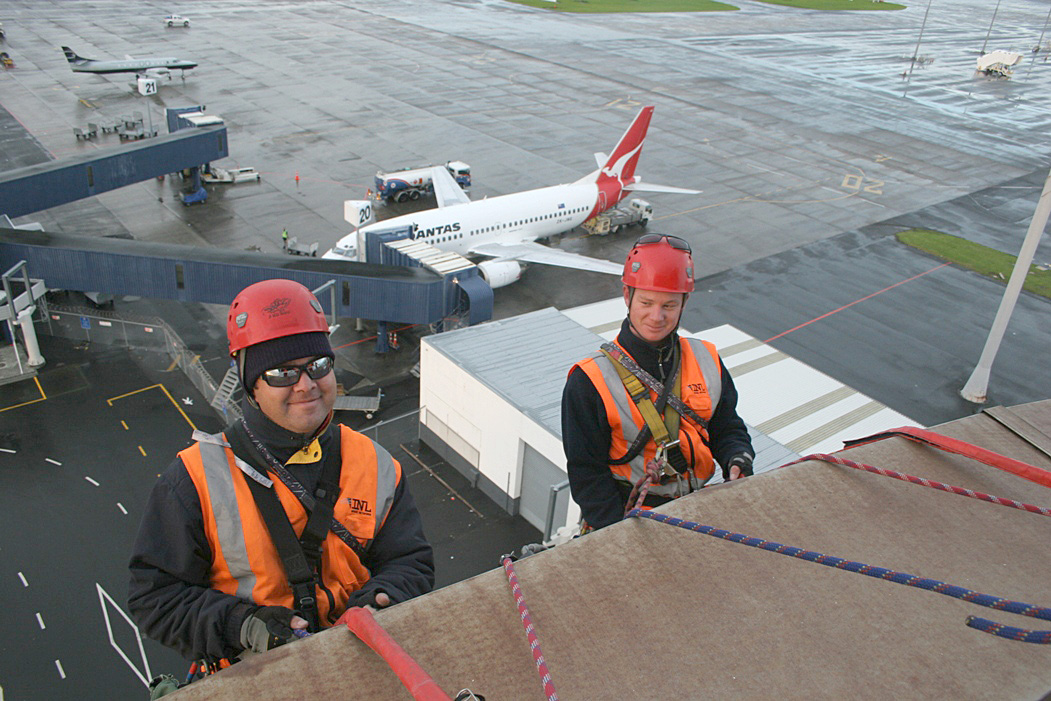 Permanent Access Systems

Permanent fall arrest systems are the perfect solution to safely carry out all high-level maintenance tasks.

Fall arrest systems come in a variety of styles tailored to suit the nature and location of your installation. Our innovative range of fall arrest and height safety equipment is supplied by our key supplier Checkmate, this ensure our hardware and systems always comply with AS/NZS 1891c 1-4. Installation is carried out by our highly qualified technicians.

Abseil anchors
Permanent lifeline systems
Checkline
– Access Ladders
– Walkways
Safety netting
Edge protection
Overhead rail systems
Anchor and safetyline recertification
Swinging stages
Rope Access

Used everyday for major industry right though to smaller domestic applications, modern industrial abseiling is without doubt the most cost effective solution to height and access solutions.

Especially combined with our impeccable safety record, rope access creates very little disruption to clients and the general public.

Communications rigging
Construction Services
Maintenance Services
Cladding and glazing
High Level Cleaning
High Level Painting
Risk assessment
Electrical
Repairs & Maintenance

Infratel access solutions specialises in all high level work where access is difficult and restricted or in confined spaces.

Abseil techniques are extremely cost effective when it comes to minor activities such as gutter cleaning, exterior coatings and texture replacement.

Sealant applications
Painting and Coatings
Internal and external building maintenance
Masonry repairs
Gutter repair
Cable and ducting
Signage installation
Pipe and mechanical fitting
Wind turbines
Roof replacement, repair & management
Building Inspections & Audits

Our ability to access problematic areas means we are able to offer our clients a thorough means of inspection

We can access and inspect all areas of a structure that cannot usually be viewed from a ground position.

Integrity and safety checks
Visual surveys
Photographic and video
Design services
Bridge and dam inspections
External & Internal Cleaning

Infratel access solutions provide an extensive range of services covering all aspects of industrial and domestic general maintenance and cleaning.

Our expertise and knowledge in rope access services can be applied to all maintenance tasks.

Skylights
Building frontage
Signage
Vessels
Silos
Tanks
Glass facades
Shopping centres
Building & Tower Maintenance

Infratel access solutions provide an extensive range of services covering all aspects of industrial and domestic general maintenance and cleaning.

Our expertise and knowledge in rope access services can be applied to all maintenance tasks.

Skylights
Building frontage
Signage
Vessels
Silos
Tanks
Glass facades
Shopping centres
Tower Structural reports
Proactive Maintenance Inspections
Water/Abrasive Blasting
Rust Mitigation
Tower Painting
Roof replacement, repair & management
Consultancy Services

Architectural Support
Review of plans & designs, incorporation of safety requirements, reports for due diligence

Audits & risk assessments
Safety inspection, assessment & reports of existing sites, plant, equipment & work methods

Concepts
Feasibility studies, conceptual designs

Risk Prioritisation
Preparation of works priorities & schedules according to risks

Design
Design of safety systems, equipment and structures

Costings
Budget costings & estimates for safety works

Works Supervision
Inspection of safety installations & equipment during construction & installation

Tenders
Preparation of tender documentation, contractor selection and advice during the tender stage

Certification
Sign offs, certification and completion reports for safety works, installations and equipment

Documentation
Standardization of safety, access & permit documentation for multi sites

Access Plans & Permits
Preparation of roof access, working at heights and safety permits & procedures